Mezzanine Floor Installers
Industrial Mezzanines, Catwalks & Work Platforms
Increase your manufacturing and storage capacity fast – without incurring costly renovations or moving to a new facility – with a structural steel mezzanine. Whether you need a little or a lot more floor space, we have the perfect mezzanine solution to fit your application, your timing and your budget. All of our mezzanines are engineered with your business in mind. Intelligently built, the modular components easily adapt to your evolving needs, providing the added value, flexibility and functionality you need in fast-changing times.
The Safety Source is the leading mezzanine floor installation service. We have hundreds of customers, from offices to distribution centers. If you have an area that requires a mezzanine, we'll be able to successfully complete the job within a reasonable timeframe.
Our team of mezzanine floor installers are experts and have many years of experience to hone their craft. As such, they can provide your business with a design consultation within one business day. Within two business days, you will receive an accurate quote from our project manager.

If you choose to move forward with our proposal, with modifications or not, we will work you into our schedule on a mutually agreed-upon date. One of our project managers will stay in constant contact before, during, and after the installation to ensure you have complete satisfaction.
Call us today 866-688-7233 for industrial, commercial and retail mezzanines, catwalks, work platforms, and any vertical expansion you need for your business.
For other similar services, like pallet racking installation check out our other industrial projects.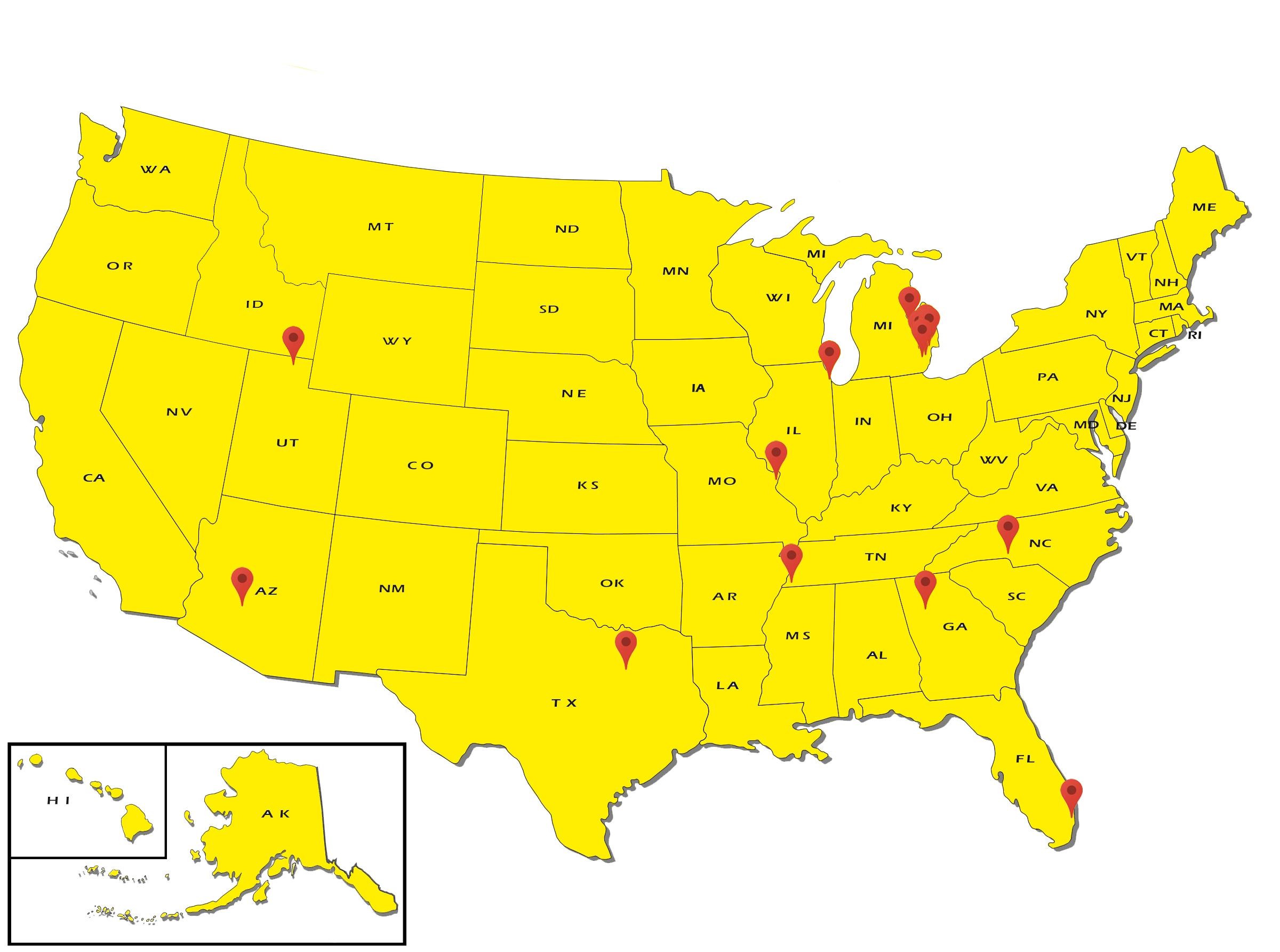 Headquartered in Clinton Township, MI, The Safety Source LLC has performed turnkey mezzanine projects all of the United States and Canada.
-Clinton Township, MI
-Dallas, TX
-Detroit, MI
-St.Louis, MO
-Auburn Hills, MI
-Phoenix, AZ
-Novi, MI
-Miami, FL
-Dearborn, MI
-Chicago, IL
-Saginaw, MI
-Atlanta, GA
-Memphis, TN
-Logan, UT
-Charlotte, NC
Traditional material handling companies and companies that bill themselves as "turnkey" will generally only supply and install the mezzanine and related material handling products.
The Safety Source handles all of the aspects below to facilitate a smooth and painless project.
-All design and engineering
-Other materials handling products such as Vertical Reciprocating Conveyors, Modular Offices, Wire Caging, or Guardrail

-Fire Sprinkler Systems

-LED Lighting Systems

-Permitting and Inspections

-Code Compliance

-Slab Analysis

-Concrete services such as Concrete Footer Design and Installation

-PE Stamped Drawings in all states, Canada and Mexico

-Any other products or services that facilitate a successful warehouse storage system installation
---
Every project is custom designed to fit your needs and budget for your location
Professional installation
Best in-class customer service and warranty
---
Our pre-engineered floor decking system delivers unbeatable quality, flexibility and affordability. When you choose The Safety Source for your mezzanine project, we guarantee a product that you get:
Faster. Our manufacturers have a large inventory of standard components means we can quote, manufacture and ship your order faster.
Leaner. We partner with ultra-efficient manufacturers whose production process keeps our costs low. Lower cost to us means lower cost to you.
Better. Our partners are family-owned and operated for over 100 years, which means a refined pre-engineered system that offers the best quality and reliability.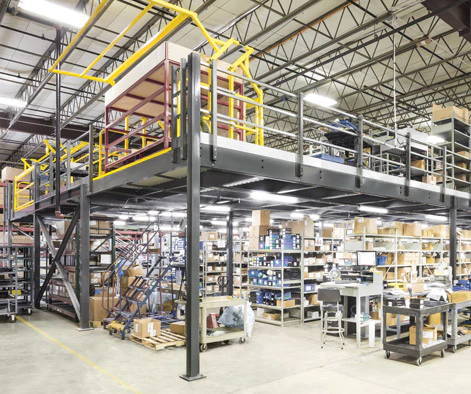 The Benefits Of A Mezzanine
Mezzanine floors provide an abundance of benefits for all kinds of settings, from residential homes to military operations. There are several core benefits that this type of construction offers, including:
Increased storage space: By implementing a mezzanine floor into a floor plan, storage space multiplies. Many manufacturers, retail stores, and the like use the extra space as storage for stock, inventory, and equipment, among many other materials.
Extra office space: Mezzanine floors are fantastic in production warehouses, as they can provide office space to production support personnel without impeding on machinery or equipment below.
Better access to elevated equipment: Mezzanine floor designs, such as rack mezzanines, provide improved access to elevated equipment. In industrial settings, it allows for equipment to be stored out of the way but also in a location that is easily accessible.
Added space in retail stores: Retail stores of all sizes utilize mezzanines to add space to their floor plan without expanding the building. Many companies use the extra space to display additional products.
---
Receive an initial call within 24 hours. We'll assess your needs and visions.
Receive your quote in 48 hours. We ensure speed and accuracy.
Schedule an installation date as soon as you're ready. We guarantee the dates we plan with you.
---
Ideal in production facilities and warehouses, mezzanine floors provide extra storage, production space, and office space. Rather than solely using the ground-level floor plan to optimize space, these focus on the entire volume of the building to create added space.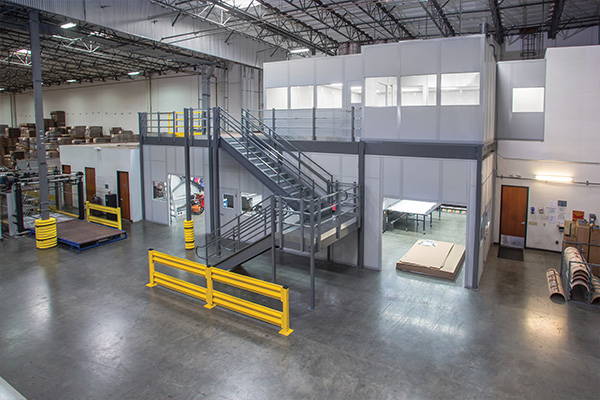 Mezzanines are common in places like industrial units and car dealerships. They provide additional space for an office while still preserving floor space. Uses for these floors can also include complementing existing offices that usually need a protected staircase.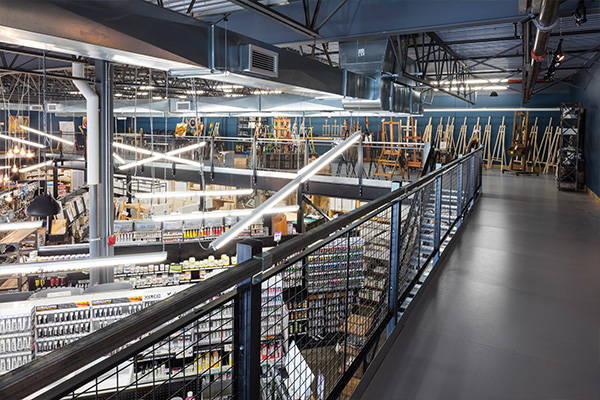 Also used to increase square footage in a specified space, mezzanines help increase company profits by providing extra room for shelf space. Contractors typically build the addition seamlessly with the original features of the building, making the mezzanine indistinguishable as an addition.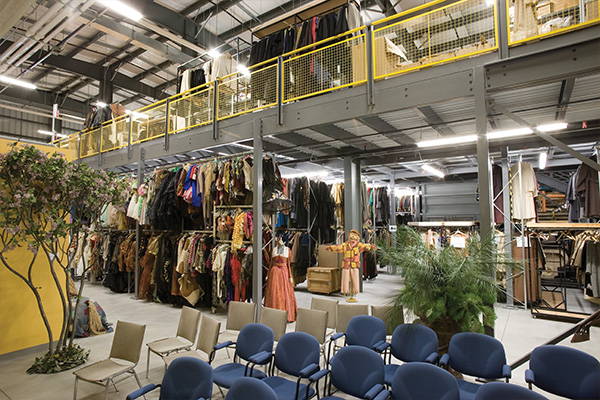 Finding storage can be complicated, and many facilities face difficulties finding somewhere to put their extra products. Mezzanine floors help mitigate the struggle. Some companies use mezzanines for additional storage.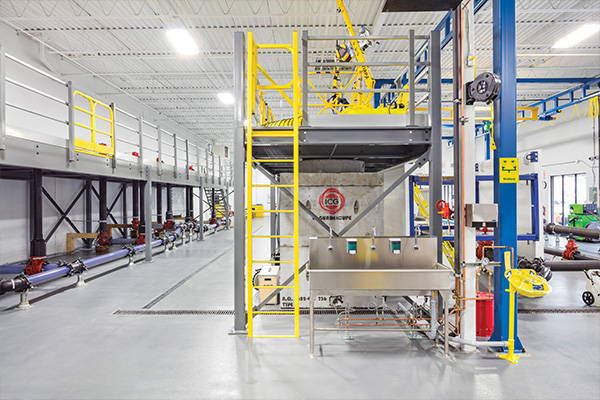 Production space may also multiply with mezzanine floors. Many companies enlist the help of steel-work upgrades to multiply the loading capacity.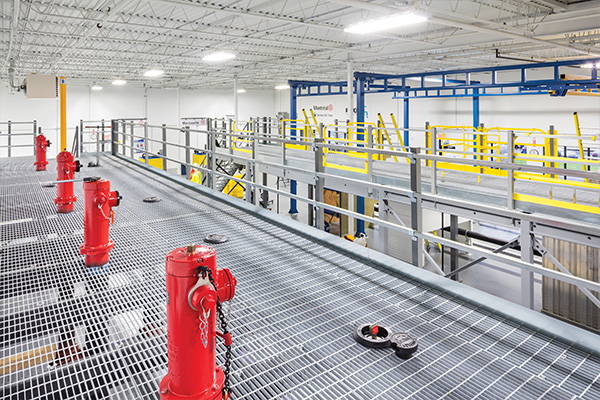 Mezzanine floors also are useful in transportation. They feature specific designs to accommodate both of these systems, providing a convenient method of transportation across and above the facility. Catwalks also can connect mezzanine levels, which allows for quick maneuverability across the facility.
The Safety Source is here to help your business expand and optimize its floorspace; here are some of the services we provide: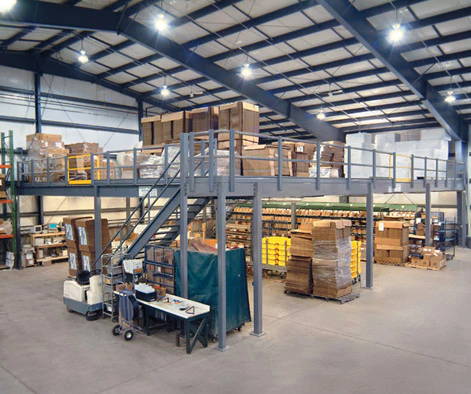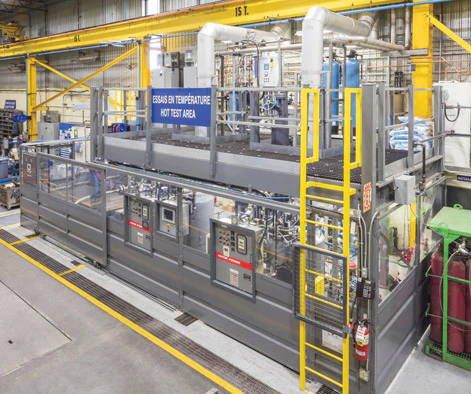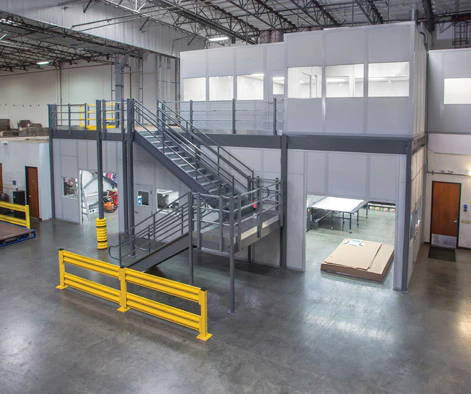 ---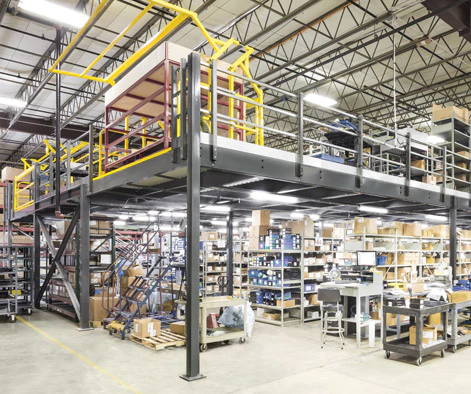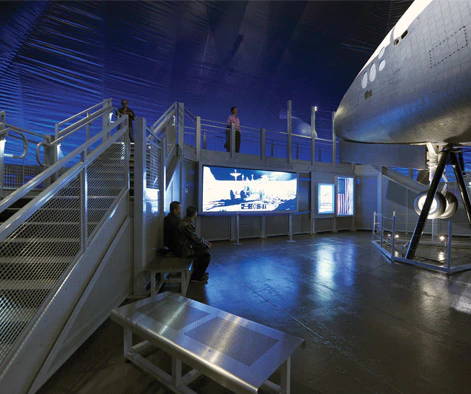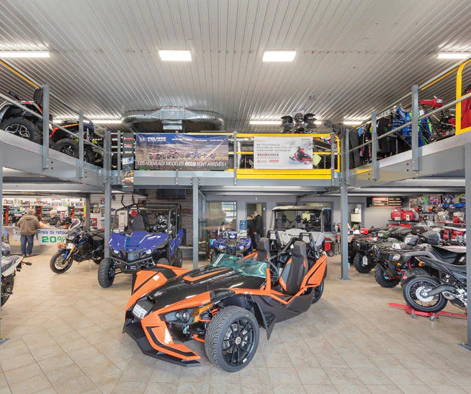 The team at The Safety Source sat down and looked at our current space and provided an out of the box solution - a two story mezzanine with an inplant office installed on the 2nd floor. This solution was not only cost effective it was designed and installed on time and on budget. Thanks for being a vendor we can rely on.
Facility Manager
Magna Seating Detroit
We have been contracting The Safety Source to manage our MRO supplies with their state of the art vending software we have seen on average $6,000 per month savings! They also perform pallet racking repairs and installation and have always accommodated our busy production schedule and provided the best value.
Environmental Health & Safety Manager
Detroit Manufacturing Systems
---
Our team at The Safety Source are experts in designing and implementing mezzanines, catwalks, and work platforms for various businesses, including retail, industrial, government and warehousing.

During our design consultation, we make sure we understand your wants, needs, and desires entirely before designing a custom mezzanine solution that satisfies your business and makes the most efficient use of your current building layout.
Besides our competative quotes and quick turnaround, our project manager will stay in touch with you as much (or as little) as you desire. They'll review the detailed CAD design plan, installation timeline, and detailed quotation. We want to ensure your stratification, and we believe the best way to do that is to stay in touch.
---
---
Recent Projects We've Completed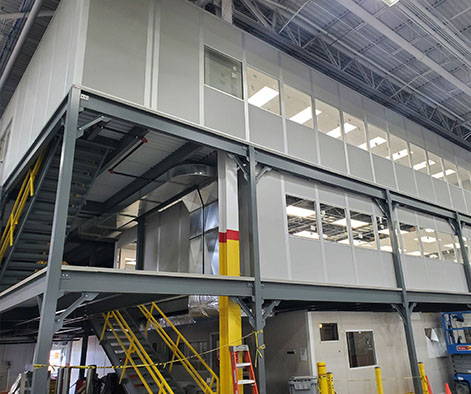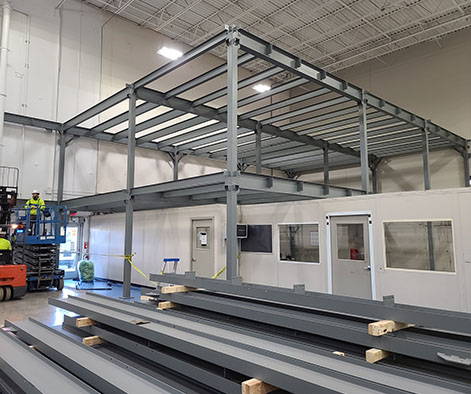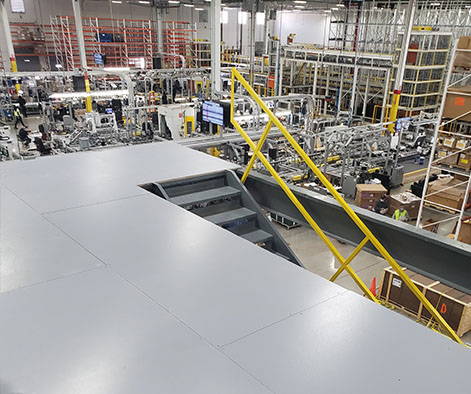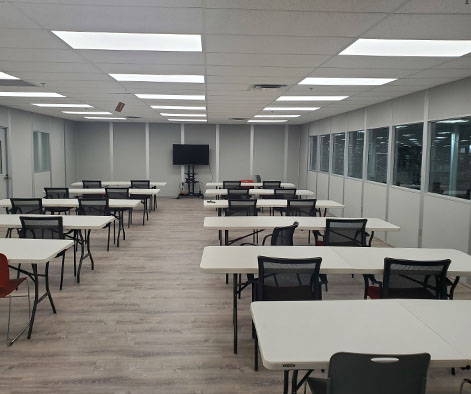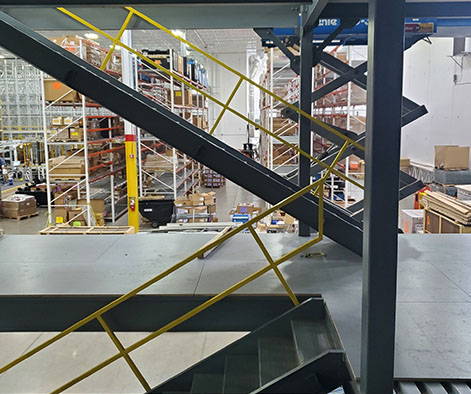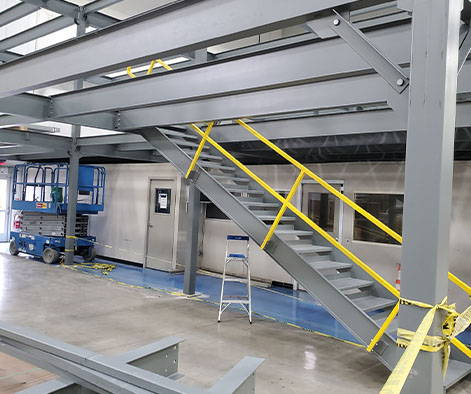 At Magna Seating Detroit in Highland Park, MI, we provided additional space in their overflowing warehouse with a two-story office mezzanine. We provided full consultation, design, and installation of the below areas on our effective mezzanine platforms:


- Additional office space

- Conference area

- Research and development area
In our initial consultation with Magna Seating, we quickly determined that building vertically would optimize their space in an already limited facility. As such, a 2-story mezzanine structure was conceptualized and outfitted with vinyl flooring, cubicles, decor, cubicles, and even a kitchen area.
Magna Seating now has much more space for their growing business while staying within the constraints of the floor space they already have.
---
Have questions? Here are some of our most common ones:
How does the process of a mezzanine floor installation begin?
Once our project proposal is approved, we begin the production and delivery of the building materials. Typically, this takes 10-15 weeks. When all the building materials are delivered, our trained installers will begin construction while keeping disruptions to your regular business functions to a minimum. Every business varies, and we'll work our installation around you the best we can.
How Long Does it Take You to Build a Mezzanine?
No mezzanines are the same; some take days, while others take over a week or more. The time it takes will vary depending on the size and complexity of your mezzanine.
How disruptive is a mezzanine floor installation?
Our team understands that keeping your business running is important; that is why we work efficiently and keep disruptions to a bare minimum.
How much does a warehouse mezzanine cost?
Mezzanine cost varies by size and complexity. For an accurate price estimate, fill out our form or give us a call today.
Will there be A project manager overseeing the installation process?
Yes, there will be a project manager overseeing the entire installation process.
Will my completed mezzanine floor be inspected?
Yes, mezzanines are inspected to ensure they meet local building codes.