Coronavirus Disinfection Services
Get Your Facility Disinfected Now Southeast Michigan
At The Safety Source, we want to be able to provide the products and services to help keep you and your employees as safe as possible during these unparalleled times. A new service we are introducing is Coronavirus Disinfection Services. Before you re-open your business, it's important to make sure your employees and customers are safe.

The CDC encourages cleaning of high-touch surfaces such as counters, tabletops, doorknobs, light switches, bathroom fixtures, toilets, phones, keyboards, tablets and tables.
The Safety Source uses ULV fogging technology to release a light mist of disinfectant. ULV technology produces extremely small particle sizes making it highly effective for disinfection and sanitization. We use an EPA listed disinfectant to kill the most dangerous, disease-causing bacteria and viruses, including COVID-19, H1N1, MRSA, Norovirus, Influenza, Hepatitis, E. coli, Streptococcus, Salmonella, and even Tuberculosis.

EPA listed Disinfectants for Use Against the Coronavirus under EPA registration 10324-141.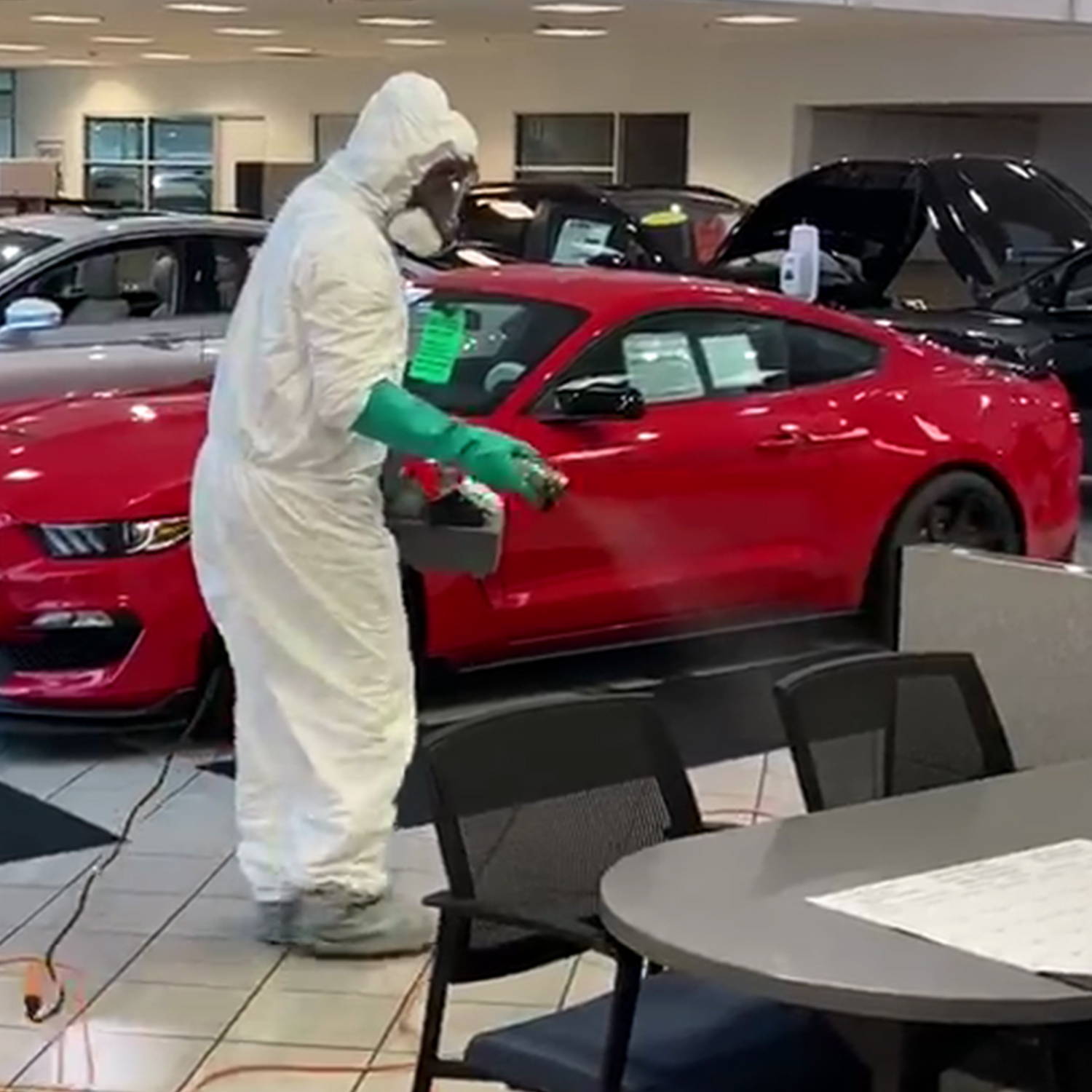 ---
Save Money And Sign Up For Weekly Or Monthly Disinfection Services
Although we cannot guarantee total & complete eradication of every germ molecule, treated facilities can be assured they are taking the highest possible protection & prevention measures available. Due to the nature of how bacterial, viral & disease-causing germs are spread, it is wise to re-treat on a regular basis. With businesses starting to re-open, it's important to provide a safe environment for your employees. As well as peace of mind knowing they are working in a safe, clean environment every day.
Weekly Service........20% Savings
Monthly Service.......10% Savings
*Weekly and monthly service agreements require a 3 month commitment.
Adenovirus Type 5
Bovine Viral Diarrhea Virus
Hepatitis B Virus
Hepatitis C Virus
Herpes Simplex Type 1
Human Coronavirus
Human Immunodeficiency Virus
Human Influenza
H1N1 Influenza
SARS Associated Coronavirus
Vaccina Virus
And Many More
Staphyloccocus
Salmonella
Listeria
Pseudomonas Aeruginosa
MRSA
And Many More
OUR TREATMENT IS DESIGNED FOR USE WHERE DISINFECTION, SANITATION, AND DEODORIZATION IS OF PRIME IMPORTANCE
HOSPITALS
SCHOOLS
DAY CARE CENTERS
KID ZONES
HOTELS
NURSING HOMES
PHYSICIAN OFFICES
MANUFACTURING FACILITIES
OFFICES
INSTITUTIONS
ANIMAL KENNELS
CLINICS
ATHLETIC FACILITIES
SPAS
FOOD SERVICE ESTABLISHMENTS
CAR DEALERSHIPS
DISTRIBUTION CENTERS
AND MORE
WE WILL NOT BE ABLE TO PROVIDE SERVICE TO RESIDENTIAL HOMES AT THIS TIME. SERVICE LIMITED TO SOUTHEAST MICHIGAN.
Pricing Based On Square Footage Of Your Facility

CALL US FOR A FREE CONSULTATION:
866-688-7233